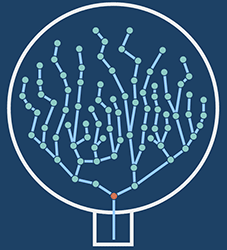 Cancer patients need choices now more than ever before.
And we're here to help.
BE THE CHOICE.
Be the Choice is a not-for-profit organization changing the way breast cancer diagnoses are experienced and treatment options understood. Delivered in a patient-friendly format and leveraging technology and scientific knowledge, our unique decision tree gives you, your family and friends the medical information you need in bite-sized chunks. Cancer doesn't have to be something that happens to you. Discover your options here and Be the Choice.
Be the Choice was born out of the idea that knowledge is power – and so is participation. Be the Choice wants to shed light on breast cancer treatment options, show the connections between those decisions, and help other breast cancer patients understand and explore their healthcare choices. This site is about starting a conversation: between you and your friends and family and between you and your physicians.
sign up to our newsletter and stay up to date with our progress: