Since her breast cancer diagnosis 11 years ago, Maria Heck has had 12 surgeries, become the owner of two businesses, and invented a saving grace for many patients with breast cancer. She also had both of her breasts removed in a double mastectomy without hesitation.
Determined not to live in fear and constant worry, Maria says she much preferred to just remove the cancer as soon as possible and live more peacefully than her mother did.
Maria's mother was a very private woman throughout Maria's upbringing, never discussing her long battle with three different types of cancer, the first being of the breast. Maria received her own diagnosis soon after she lost her mother to liver cancer.
"She never talked about it to anyone," Maria said. "I'm the exact opposite."
However, Maria says her experience through her mother began preparing her for her own fight with cancer that left her without breasts for two years. That, and the endless support she received from her family and community.
Her husband, friends, and family were immensely encouraging of her determined decision to immediately remove both breasts.
"My best friend gave me an airline ticket, and my husband stayed home with my young, small kids," she explained. "He couldn't come with me so that was very hard, but my brother-in-law did the surgery…they all took very good care of me."
In her home in small-town Pennsylvania, Maria says she wanted to spark conversation and end stigma around breast cancer in her community. From her job at a local library, Maria had neighbours and strangers approach her to discuss their own experiences and begin conversations about breast cancer in a town that had otherwise been silent.
"I don't think anyone has ever been honest about cancer in that town."
She says she had people bringing her boxes of chocolate and many questions and yearned for those precious conversations.
"I was supposed to be working but was really leaning over the counter talking about breasts," Maria says. "Somebody who I bought my Christmas tree from every year talks to me about my boobs. There are no filters."
Maria is herself unfiltered and candid, dedicated to explaining her cancer in the same realistic, no-nonsense manner in which she lived it. For her various columns and contributions to local and international publications, Maria allows readers a peek into the brutal and colourful world she has seen through her battle with breast cancer.
"Donor tissue, implants, people don't talk about that, they think it's embarrassing," she explained. "There is nothing I won't talk about."
As she writes in her column, "I discovered that those of a certain generation tend to actually whisper the word 'cancer', the same way they mumble other taboo topics, such 'mafia', 'bribery' or 'extra-marital affairs'.  I believe they think if you say 'cancer' out loud, you may actually catch it. I'm here to tell you that cancer is not contagious."
Her unwavering humour and flowing passages are laced with harsh and, yes, unfiltered descriptions, comparing her breasts to milk cartons or "a bruised margarita." The comedic relief of her writing softens the hard blows that she describes.
Through her writing and an interview with Be the Choice, Maria described that her decision to remove her breasts was simple and quick. She wanted to be done with cancer, to live a life different than her mother's, free and healthy.
"I was too afraid to chance anything, I didn't want to look over my shoulder my whole life," said Maria. "I wanted to get it over with."
Despite her speedy path to a double mastectomy, Maria was simply anxious to be cancer-free. She was no stranger to surgery, either, having had a breast reduction in high school, which she says probably helped to prepare her.
"I cried once. I handle most things in my life like that," she says. "I don't make a big deal about it; I just want to do it and get it over with."
On vacation after her initial surgery, Maria describes happily sunbathing in a bathing suit, careless about any opinions or judgements the people around her might have made, insisting that she "doesn't spend a lot of time thinking about what I look like."
In her writing, too, Maria weighed the pros and cons of a "radical" double mastectomy, calling it "no walk in the park," immediately after her surgery.
"…if it's between looking like the Pillsbury Dough Boy and having cancer, Dough Boy it is. It's a very small price to pay for being cancer-free… it is a gift when you're presented with a future without breast cancer."
Although she maintains that she was never very obsessed with her looks or body, and was already fairly disconnected from her breasts, Maria also notes the mental toll that her double mastectomy had on her before she decided to proceed with a reconstruction.
"I went 2 years maybe longer with no breasts, I really honestly didn't give a shit about it," Maria explains. "Then I started to feel uncomfortable the older I got."
At one point, Maria described being at a grocery store in a sports bra and facing comments and mockery.
"Two men made a comment, because I was completely flat, I looked like a ten-year-old boy," she said. "It bothered me that that bothered me."
Maria credits that experience with her interest in reconstruction surgery. Now, after a total of 12 surgeries following the mastectomy, reconstruction, and the following complications, Maria has reconstructed breasts made from her own tissue from her stomach and says she feels "100 per cent like my old self again."
"I guess it did affect me in a way I didn't recognize at the time," she says. "I'm going to get in a bathing suit and really feel good again."
Body image concerns and insecurities aside, Maria explains the psychological and emotional impacts that numerous surgeries, pain, and complications can have on an individual like herself.
"It's tiring and it's painful," she says. "It takes a lot out of you."
However, a prevailing victory over her fight with cancer wasn't enough for Maria. She wanted to help other women from experiencing the same alienating and lonely pain that she did, particularly on the drive home from her mastectomy.
After painful and extensive surgery, the hospital provided a pillow for under the car seatbelt on the drive home, which Maria said barely did anything to relieve the pain. For this reason, she invented and built the first Breast and Chest Buddy, which is a customized pillow specifically built to ease the pain of a seatbelt after recent surgery. Approximately 45 000 Buddies have been sold and provide necessary relief for thousands of patients like Maria.
Quite on a whim and to further prove that breast cancer couldn't stop Maria or dull her spirit, she has recently opened a bridal consignment store that has turned into one of her many passions.
"I woke up one morning and just knew."
In a life filled with courage, resilience, passion, and great humour, Maria happily wraps tulle around a hula hoop to decorate her new store and connects with people from all over the world through her store, the Breast and Chest Buddies, and her writing, committed to continuing conversations and sharing her voice.
"Social media has shown me so much, it wasn't like that when I had my mammogram," she explains. "It's so great to share pictures and share stories."
Committed to the community she has built and cultivated, Maria is on to this next unexpected and exciting chapter of her life after reconstruction.
"When you have a survival rate as high as breast cancer… I don't want anyone to be terrified," she said of her decisions and struggles. "I had to be honest and talk about what I'm going through. I think it did help a lot of people."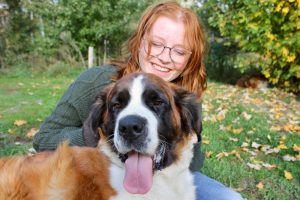 Piece written by Sarah MacFarlane. 
Posted
by