It was the summer of 2012, in mid-late August. It had been a fabulous summer. My kiddo (then 10 years old) and I spent some time "down home" on and around Lake Erie, boating, swimming, relaxing and enjoying. We had just got home from celebrating my birthday weekend with family. 
It had been one of those perfect summer weekends. The kind you don't want to end. I had just finished reading Eat, Pray, Love and was ready to conquer the world and, of course, do more travelling. I was relaxing on the couch back at home, and felt something a little odd under my bra. It was weird, the lump in question. I sort of didn't think much of it initially, and let it go. 
It would be October of that same year before I was officially diagnosed and sent on a whirlwind path of terminologies and decisions to make. I waited too long. My second fear, right after my first fear. How do I tell my child? I was a single parent. We were tight in our relationship and it felt like we just had it all going for us and then this? Why? 
Why is the question that many of us have asked ourselves going through this journey. Typically followed up with, how? For myself, there was no history of breast cancer in my family at all. It was perplexing and I was completely healthy, at least I thought I was. We then tend to go through a mental checklist of things we do and do not do that should keep us in the "safe zone". That's just it though, Cancer does not choose who it inflicts itself upon. It just shows up one day, like a bad zit that should have died on your teenage forehead. 
The one takeaway in all of this has been for me, as my surgery in February 2013 took both my boobs and I figured, "Great, we're good here", that it is 100% our job to self-advocate and take control of our choices and decisions. That's where your power is. Where we can stand firm in our gut feelings and know that it's the best decision for you and your future health and well-being.
It was January of 2016 where I did just that, self-advocated. I had just undergone a nipple reconstruction and was healing from that minor surgery, when I found my under arm/pit had become swollen and golf ball-sized. I went back to my surgeon and was told it was time for another journey. This time though, I was ready. I was prepared to fight this head on, even though this time meant another surgery, chemo and radiation. I was ready to voice the empowerment I felt over finding it again, on my own. Questioning the find in my body that was foreign and unwelcome. We know our bodies best. Always remember that. Empower yourself with that daily mantra and advocate for your future health. It saved mine. 
A little bit about Jenn Farr…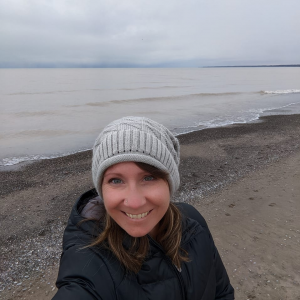 I hail from a little town in Norfolk County, called Simcoe. Although my hometown is near and dear to my heart, and I try to get back there often to visit, I've somehow migrated east over the years and wound up living (and remaining) in this beautiful city of Ottawa for nearly 20 years.
I have a soon-to-be (July) 20 year old who delights my life and teaches/humbles me more than anyone else on this planet. My kiddo moved out last May, so I'm an empty-nester now. Move out day was harder than the first day of school!! ;)
I live with my soon-to-be hubby (wedding this June!) and our two kitties, Connor and Willow. We are avid mountain bikers (all seasons) and motorcyclists (warmer seasons..lol) and I also enjoy horseback riding and playing guitar/singing, when I can.
Travel is LIFE. I've travelled a fair bit over the years, but some of my most unique trips have been to Iceland (twice), Italy and Ukraine (got to tour Chernobyl!). Cannot wait to travel again – hopefully overseas for our honeymoon.
Pictured here in one of my most favourite places on earth, down home on Lake Erie last November.
Posted
by